Cases
If you want to become a good curator, you first and foremost must be familiar with the cases the site has. Volunteering for this site requires a lot of reading and comprehension skills and this is a good way to warm you up. Go through and read every point in the list multiple times. When you feel like you thoroughly understand each point, the differences, and their characteristics, you can move on to reading Terms of Service and Privacy Policy documents. As you read, you will find yourself recognizing and highlighting points that fit their respective category.
When you find a document you want to annotate, click "Crawl Document"
to get the most recent version. If the system has trouble crawling the document, make sure the URL and XPath are still correct. This is picture on how to add documents to ToS;DR where no coding experience is required. If you are more tech savvy, you can open the console with fn+F12 (at least on a Mac) and find the location of the terms.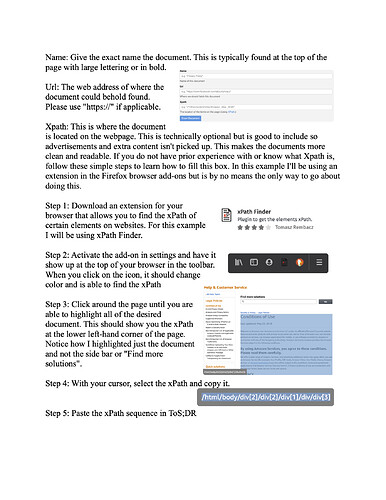 There is a ToSBack system that automatically crawls documents everyday and maintains records of them. However, this feature has not yet been integrated in "edit.tosdr" (if you know how to code and are able to help set this up, please contact us by emailing team@tosdr.org or visit our GitHub at GitHub - tosdr/tosdr.org: ARCHIVED Source code for tosdr.org 6).
If you would like a better explanation of a case, head over to the "case" header and click on one of them. Often you will find a short description of the case with examples below that have been previously approved.
Points
What to highlight
Try to highlight the shortest possible amount of text in order to get the point across. Over highlighting could potentially result in picking up other points that would count against the service. You don't always have to include the entire sentence as the sentences can be quite long. It is also okay if your highlight is just one word, as long as you explain it in the comments and include the full sentence the word is in to provide context. An example from a company's Terms of Service is given below where one sentence has three highlights:

"any Content that is abusive, libelous" Users agree not to submit libelous, harassing or threatening content (Case 283: Users agree not to submit libelous, harassing or threatening content 5). "Libelous" is included because it is included in the case and "abusive", although not explicitly stated in the case, it is listed and included in the description of case 283.
"pornographic" Prohibits the posting of pornographic content (Case 315: Prohibits the posting of pornographic content 1). One word on its own doesn't mean much, which is why it is important to include some of the original quote in the description so the curators and people using ToS;DR have context.
"that promotes or incites violence, terrorism, illegal acts, or hatred on the grounds of race, ethnicity, cultural identity, religious belief, disability, gender, identity or sexual orientation" Prohibits the posting of content which promotes or glorifies violence or politically or religiously extremist values (Case 314: Prohibits the posting of content which promotes or glorifies violence or politically or religiously extremist values. 2).
Wording
When you highlight a point, imagine yourself as that company's lawyer in court. Be on the lookout for words in the cases and in documents for words like "and" (has to include all of the case's specified criteria), "or" (points have to meet at least one of the case's criteria), "may" (doesn't mean a service will actually perform an action, non-predictable), and "will" (the service/subject is committed to an action, predictable).
Different terms of service for other countries
If there are different policies the service has depending on where you are, (like America or the E.U.) include those documents but only highlight the points of the country that provides the customer with the least amount of freedom and privacy. The majority of the time it will be America because of the protections that General Data Protection Regulation (GDPR) offers for E.U. residents. Even though California is in America, California Consumer Privacy Act (CCPA) only allows residents of that state to access, delete, and opt out of personal information sold. However, this is not offered to all states so don't highlight any points that fall under a term's CCPA section.
Duplicate points
Please do not submit duplicate points. Before you submit a point for review, you should click on the service and look at all of the previously approved points to make sure that it has not already been recorded. Our system would add up both points to the service's overall rank, unfairly punishing or benefiting their grade.
Handy Tip: To become more efficient at finding and creating points, you could always search the page with control or command F and type in "DNT", "porn", "moral", "as is", etc. to find where these are in the document and link them to their respective case.
Thank you for helping us address the biggest lie on the internet!